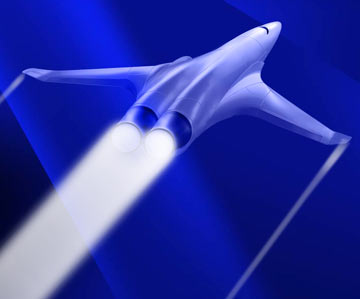 I designed this aircraft over several months, because I was trying to go for experimental and unfamiliar, but with a nod and a wink toward Nasa's X-48B - which is actually more delta-shaped than mine and does not have engines integrated into the fuselage. My larger, turbine engines owe more to the f18 Hornet, but the combination of a large, wide cockpit, small wings and enormous engines belongs to the world of aviation fantasy. The illustrated book I am working on right now fits right into that world. Watch for it later this year (2012).

That's why the image of my aircraft is on my home page. The drawing started out with a whole bunch of pencil sketches. Gradually, I boiled the linework down in Adobe Illustrator. Parts of it were shaded with the gradient mesh tool, but the final shading was really polished off in Photoshop. By the time I was getting near completion, it felt more like a digital painting than any illustration I've done. That's because I was working with a digital layer technique similar to colour glazing with oil paint.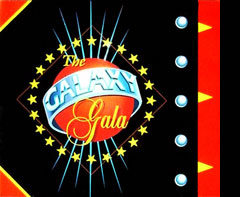 This was for a charity fund raising gala dinner. I had just been to a Cirque du Soleil show and was really impressed with their colours and design. What was really fun with this piece was how it folded. It is actually made of three panels. For a designer, it is always a bit of a rare treat to be allowed to make a dye cut print job, due to the extra expense.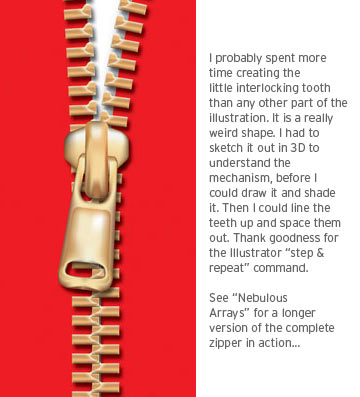 The gradient mesh tool really delivered again. I couldn't get
a "stock" image of a zipper exactly the way I wanted it. so I
decided to make one instead.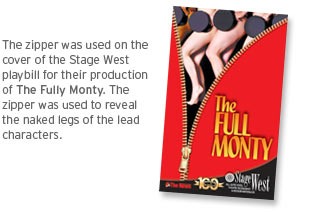 Here's a silly little painting (

below

) done with brush and india ink. It was for a story about the site of Washington and I just couldn't resist the cheap pun. It's actually pretty early - from my pre-computer days.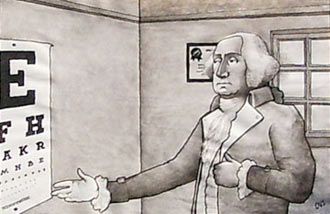 <PREVIOUS | NEXT >