HIGHLIGHTS

:



Courtland Shakespeare is a designer, illustrator, writer and editor. He is also an internationally published game designer and web developer. His most famous projects are Jewels of the Oracle and Jewels II. He has directed creative titles and projects for

Shakespeare Company, Bardworks Ltd.,

and

Eloi Productions

(in Canada) as well

as

Protostorm

and

Hexagon Entertainment

in the US

.

Descriptions can be found in the Special Projects section.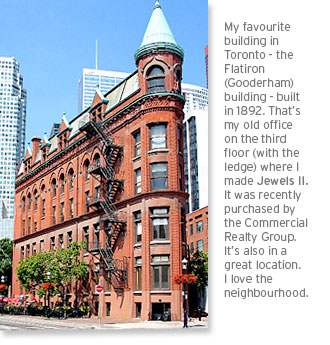 The '90s were exciting times for hardware and software innovations. Here's a logo I made for

MacWorld San Francisco 1992

.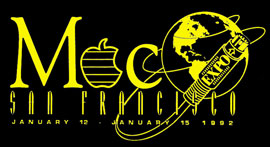 I had already been a lecturer at the Expo for a couple of years and was a huge fan of Apple. Although it was a fun period of early development, they were also times of technical frustration. People were looking for help wherever they could get it.

This logo was printed on gym bags and "takeaway chachkies" for staff and lecturers. I met some of the original Apple "Evangelists" (Mike Boich and Guy Kawasaki).

At the

Boston MacWorld

later that year, I got swarmed by an enthusiastic audience following my presentation about

The secrets of Display PostScript, gradient formulas, color trapping and output error codes

.

Three years later, my CD-ROM game

Jewels of the Oracle

won "game of the year" from the Boston Mac Users Group (BMUG).

Perhaps one of my favourite highlights of all has to be the day I met Mark Hamill, Carrie Fisher and Harrison Ford in 1977 - the year the original

Star Wars

(Episode 4) came out. It took place at the Royal York Hotel in Toronto. The film had not opened yet and I hadn't seen it, so I had never heard of the three actors I was supposed to interview. I've put together a couple of preview clips here...





Click on the picture (above) to listen to them. You can also download the entire 30 min. original 1977 audio interview from

iTunes

for $1.99. Just launch

iTunes

, go to the

Store

menu and do a search for "Courtland Shakespeare" - or you can go to

cdbaby

using the button on the next page. It's also available wherever fine audio is sold online.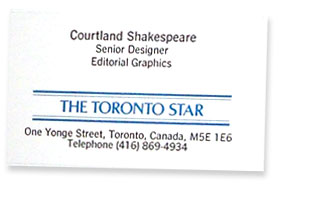 My old business card from

The Toronto Star.

I sat near a window on the 5th floor facing the Gardiner Expressway. When I said I was resigning, they offered me the title of "Electronic Art Director," but I said no thanks. It's ironic that 20 years later, I would be back working for

TorStar

(the corporation - not the daily newspaper) as an Editor at Metroland (Special Sections and Magazines).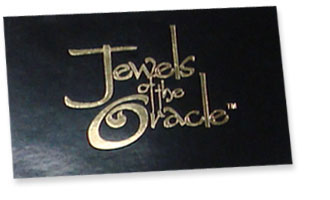 My "Jewels" business card - I made them to take to the

Electronic Entertainment Expo

in 1995 where I met

Alexey Pajitnov

(the creator of

Tetris

). He came and watched my demo along with some Russian scientist associates. They came up and introduced themselves after the presentation. It was a defining moment.

Steven Spielberg and William Shatner walked by the booth too, but didn't stop. Shatner was alone, dressed in buckskin (really). Spielberg had a little group of people surrounding him. I went to the

LucasArts

booth and tried to get an appointment or an interview. A little while later his people called me, but they only wanted to find out if I had any "procedural tool" programmers - so they could hire them.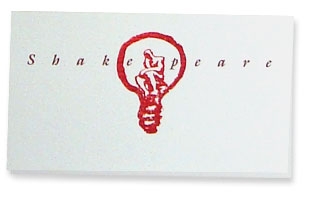 One of my favourite cards -

Shakespeare Company

. It was a folding card made of white, heavy textured (expensive) paper with the logo stamped in red foil. The original illustration appeared in

The Star

for an article about creativity. The art and design company was my first corporation. I had some great clients!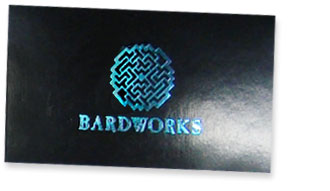 Here's my

Bardworks Ltd.

card. Phone and email information was printed on the back. The card is gloss black with a blue foil. The logo, by the way, is the solution to the pentominoes puzzle from the original

Jewels of the Oracle

. The

Bardworks

office was in the historic Flatiron (Gooderham) Building in Toronto. I had the office in the point on the third floor. The windows are curved glass. It's a fantastic building filled with gorgeous architectural detail.



NEXT >